Michael Hemmer's Knife Collection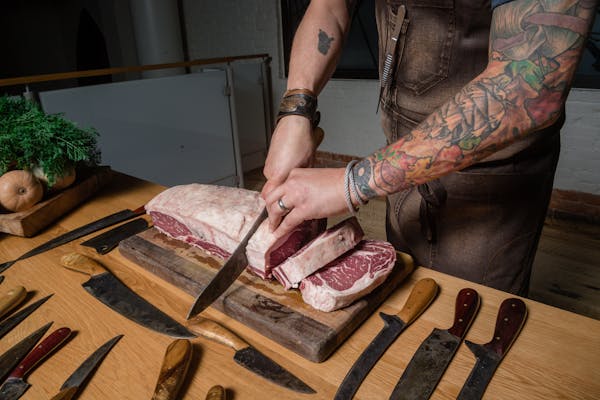 The way Matt Cooper talks about the man who makes his knives is familiar. Like the legacy of Hattori Hanzo in Quentin Tarantino's Kill Bill series, Cooper describes a man who is particular, renowned, and elusive.
"He doesn't really sell to anyone, except local markets and one kitchen store in Oregon."
When Michael Hemmer moved to Blodgett, Oregon with his wife, opportunities to make a living were scarce. So he decided to do what he loved with what he had. He repurposed vintage timber saws, the very same saws that could have cut down trees in Blodgett, Portland, or even Vancouver, and made his knives.
"He makes his knives the old way," Cooper says, as he holds one of Hemmer's knives in his hands. "He works in his own blacksmith shop, and he uses the local steel he sources. It doesn't have to be perfect to be used. It's the steel that matters."
The knife stretches into a sharp arc, and Cooper holds it as if it was perfectly made for his hand. It looks intimidating, but Cooper loves it. "I like that it's scary. It's a reminder that Hemmer took something that used to destroy, and he made it something that now creates."
"He works on each knife until it is exactly what he wants. He just does what the metal tells him to do. He lets the steel tell him what the knife needs to be."
Matt Cooper is no stranger to letting raw materials drive the end product. In the Preacher's Son kitchen, beautiful raw ingredients are selected from local farms and vendors and crafted into the food you see on your plate. And just like Hemmer, Cooper lets the food drive his vision.
"It's the flavor that matters. It's the product that matters. Sourcing amazing product from people who are passionate about what they do, and presenting it in the way that it was meant to be presented, and very simply."
Cooper and Hemmer are both makers. They are both presented with blank slates, steel and food, and they create.
Although simply presented and easy to understand, there's a unique complexity of flavor that Cooper manages to convey in his menu. From the subtle sweetness of the carrot and sweet potato gnocchi with fromage blanc and honey, to the incredible flavor pairings of scallops with burnt fennel cream, lion's mane mushrooms, apple, and radish, Cooper offers a flavor for any evening or craving. Just like Hemmer's knives, Cooper's dishes themselves are unique, special moments.
"I'm just trying to show people how beautiful food can be."




Article: Morgan Johnson
Photography: Meredith Mashburn
Fall 2018